June 2021- MITRAz 3rd Anniversary Online Get-Together
On June 5th the entire MITRAz family came together to celebrate a big milestone – our third anniversary! Thanks to the pandemic the get-together was virtual but COVID could not dampen our spirits and the turnout was bigger than expected with over a hundred participants including current students, Mitraites (alumni), faculty and staff, volunteers, donors and well-wishers.
We were fortunate to have two esteemed guests of honour – Prof. Madhu Veeeraraghavan, Director TAPMI and Mr. Shyam Mohan, Founder & CEO Tier 1 Network Pvt Ltd – take time out of their busy schedules to join us.
We were fortunate to have two esteemed guests of honour – Prof. Madhu Veeeraraghavan, Director TAPMI and Mr. Shyam Mohan, Founder & CEO Tier 1 Network Pvt Ltd – take time out of their busy schedules to join us. They not only appreciated the work we have done so far but their inspiring words of encouragement left us pumped up to do more! What was supposed to be an hour-long session, overshot the stipulated time as so many of our former students had so much to say. From gratitude to the MITRAz Foundation for opening up opportunities for them, to calling us 'their family' and 'pillar of support', from taking us through their journeys with MITRAz to appreciating the dedication of their mentors and teachers, from recounting fun times we shared at MITRAz to relating incidents that shaped their lives – the celebration turned into a heart-touching thanksgiving session.
It truly was a much-needed reminder of what we do and why we do it and left us humbled, knowing we are surrounded by so much love and appreciation that we cannot but face the year ahead with greater dedication and renewed zeal.
June 2021- Buddy Connect in Collaboration with Barclays Bank
In June 2021 we started our collaboration with Barclays Bank for the Buddy Connect program. The employees of Barclays Bank are volunteering to mentor our 8th batch of BFSI students in workplace readiness and resume writing, through the Buddy Connect program.
These one-on-one phone sessions connecting our students to bankers will work on improving their communication skills, help them understand the importance of workplace etiquette, and prepare them to face job interviews with increased competence and confidence. These hands-on and practical learning sessions complement the technical training provided by MITRAz Skills and help build a good foundation on which our students can build their careers.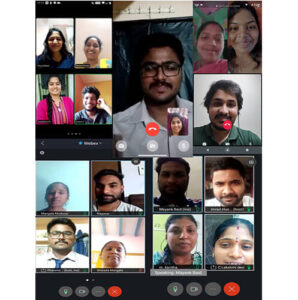 May 2021- RISING TO THE CHALLENGE
Free Auto Service for Covid Patients
In May 2021, the MITRAz Foundation set up a free auto-rickshaw service to ferry COVID+ patients to and from hospitals within the Puttaparthi Municipal limits. We have employed an autorickshaw driver to carry out this service and are providing him with all the necessary safety gear like PPEs, face shields, and sanitizer to ensure he remains protected against the virus. This seva is being well-received by local residents and is helping curb the spread of Covid by avoiding public transport services.
May 2021- Financial Planning by ArthNivesh, TAPMI
In May 2021, MITRAz conducted sessions on Financial Planning in association with ArthNivesh, TAPMI, Manipal. At MITRAz, we believe that mere learning and earning is not enough. We need to complete the circle of holistic learning by educating the youth in financial planning and the need to save for the future. In collaboration with this reputed business school, we are now having regular one on one session with our MITRAites to educate them in this all-important life skill. This will help the ArthNivesh team to understand the nitty-gritties of the rural segment and create an appropriate saving plan.
May 2021- Debate Training & Certification by NOSFAM
Good spoken English and communication skills are key factors in securing a decent job. Rural children have limited exposure to opportunities that might help them hone their communication skills and build up their confidence. With this in mind, MITRAz Foundation partnered with NASCOM in May 2021 to start debate sessions for rural school children. NASCOM is an initiative by school children who, having completed a course in debating, have won awards in international competitions. Interacting with others in their own age group has been a boon to underprivileged children who are now getting the opportunity to add finesse and structure to their inherent street smarts. These sessions are being eagerly attended by rural school children with the drive to move ahead in life.
March 2021- Collaboration with Geolife Youth Club for Spoken English Classes for MITRAz Skills Trainees and Financial Literacy for School Children.
Having identified that basic financial education is a big gap in the current academic school curriculum, we initiated a Financial Literacy Certificate program in April 2021. The education of most children in rural areas has been hit hard by the pandemic. This class of students is also ignorant about all money-related matters – the importance of earning, saving, etc. The online financial literacy sessions that we are conducting are practical and give hands-on learning to children so that they can grow up to make mature financial decisions and lead better lives.
February 2021- Business Communication Session
In February 2021, we conducted a session in business communications for our MITRAz skills students in which several experts from reputed corporates addressed the current batch. For students coming from rural backgrounds with absolutely no exposure to workplace etiquettes and expectations – bridging the gap becomes just as important as technical training skills. The highly informative and hands-on experience helped students clarify their doubts and shed any inhibitions they might have on joining the workforce.
December 2020- Online Career Counselling Session.
Career Counselling Sessions
In December 2020, we conducted a series of career counselling sessions for students under MITRAz Skills. Experts from various organisations, volunteers and our own facilitators came together to address the current batch. As most of our students come from rural backgrounds, they are unaware of the job options available to them and how to equip themselves with the requisite skills and emotional head space to secure, hold on to and thrive in a decent job. These sessions certainly pushed them in the right direction as they embark upon their careers.
August 2020- Collaboration with Rotract Club of TCET on project Eloquent for improvement in communicative English.
Buddy Connect sessions for MITRAz Skills students
In August 2020, MITRAz Foundation partnered with Societree and Rotract Club, Mumbai, to conduct Buddy Connect sessions for students under MITRAz Skills. These one-on-one phone connect sessions are an integral part of the training process as they concentrate on improvement of spoken English, honing communication skills and ensuring workplace readiness of our students. These sessions are conducted for every batch of students with MITRAz Skills.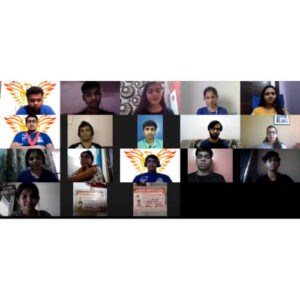 May 2020- Food Distribution and Making of face-shields and masks during Coronavirus Crisis
Here are a few pictures from the Food Distribution event, in which MITRAz Foundation contributed and participated. The distribution was held on 16th May 2020, at the Patients and Relatives Hostel next to the Sri Sathya Sai Super-speciality Hospital at Prasanthigram, Puttaparthi, during the Coronavirus crisis.
Feb 2020 - Senior Citizens Care Workshop
Are you losing your sleep over growing old ?
Is there such a thing as aging gracefully ?
Do you take care of bedridden seniors at home and need guidance ?
These are some of very engaging questions that we sought to address in a half-day workshop of Senior Citizens Care in Puttaparthi. Caring for the elderly is one of the areas that requires the utmost empathy and understanding. Those who care for elderly patients with a terminal illness for a long period, often face, what is called caregiver stress. As a loved one of an elderly relative, what measures can you take to help the seniors in the best manner ? Or as a senior citizen yourself, how can you experience a better quality of life with all your ailments ?
Oct 2019- Chitravathi River Cleaning
Earth Care
At MITRAz, we believe in the adoption of sustainable methods and technologies as a way of life. We impart these earth-caring values to the students and implement the same at our Skill Development Centre as well. Energy saving, paper saving, re-use of materials for internal decor, strict avoidance of single use plastic in the premises are some of the steps we have taken to care for the planet in small ways. We also intend to have the students participate in tree-planting and their continuous upkeep as part of their community work program with us.